Lemon Dill Salmon
With Stone Ground Mustard
Who doesn't love a great lemon dill salmon dish? There's just something about the balance of strong salmon taste with the brightness and acidity of lemon and dill. This recipe adds a new twist to the classic flavor profile… Mustard! But not just any mustard. Take a splurge and buy the highest quality stone ground mustard you can get your hands on.
Wait… Mayo? Really? Yes. Really.
Yeah, I know. It's not healthy. But let's be honest… the most delicious stuff in life usually isn't. I never said this was an everyday meal. This is the type of meal you serve when entertaining guests. It definitely has that "Wow!" factor – both in presentation and flavor.
But Why the Mayo?
Hear me now, believe me later. The mayo is actually what helps take this dish to the next level. First, the mayo will keep the salmon incredibly moist – no surprise, there's oil in mayo. It will also help create an incredible crust once the high heat of the broiler hit it. So my advice – don't skimp too much (meaning at all) on the mayo! But here's the best part. No one will even know that it's in there. There's not the slightest hint of mayo taste, so just keep that between me and you.
And as Always… Please Pin & Share the Love!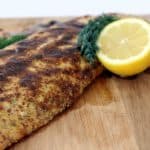 Lemon Dill Salmon with Stone Ground Mustard
Incredibly most and flavorful salmon in less than 30 minutes!
Ingredients
3

lb.

whole salmon filet

no skin, no bones

1/4

cup

stone ground mustard

3

Tbsp.

mayonaise

1

lemon

zested, juiced

3

Tbsp.

fresh dill

finely chopped

salt & pepper
Instructions
Preheat oven to 375 degrees.

Remove salmon from refrigerator for about 10 minutes.

In a small mixing bowl - combine mustard, mayonaise, lemon juice and zest, and dill.

Season salmon with salt and pepper, then place on a prepped roasting tray.

Spread mustard mixture over top of salmon, making sure to cover completely.

Switch oven to high broiler setting.

Once broiler is hot - place salmon on top rack for 6-8 minutes (until top of salmon is just slightly charred), rotating after about 4 minutes.

Switch oven back to 375 degrees.

Move salmon to middle/lower rack. Cook for 5-7 minutes.

Serve immediately and enjoy!
Recipe Notes
While salmon is under broiler, pay close attention as it cooks to prevent burning. You may want to rotate it several times, which may add a minute or two to the broiling cook time.
THIS POST MAY CONTAIN AFFILIATE LINKS. TO FIND OUT MORE VISIT MY DISCLOSURE PAGE.