I Could Tell You... but They'd Probably Sue Me
There are few dishes as elegant and luxurious as Beef Wellington. So when I decided to start throwing dinner parties, there was only one thing that had to be on the menu: Beef Wellington! Now, at that point, I had never even eaten it before. But I had seen so many episodes of Hell's Kitchen that I felt like I knew what it tasted like.
So what did I do? I took to YouTube to watch the man himself make it. Over and over and over again...
I mean, I must have watched those videos 30 times each. But I was determined to nail it!
And the result...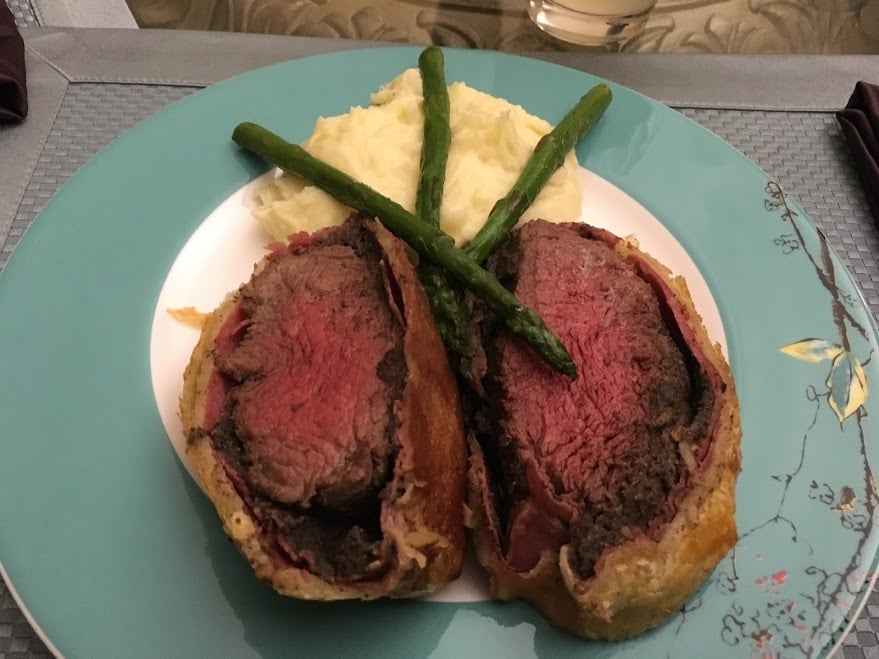 A mess. But actually, I was so proud of it. I ended up making it 3 or 4 more times, with the same loose, soggy result. Then, as I was watching a more recent season of MasterChef, I noticed something different. They were adding a layer of crepe! I'm not sure when (if ever) GR modified the recipe, but I found no record of it on his website where I got the original recipe (except in the photo, which I noticed while writing this) or in the YouTube tutorials. Until...
This past Christmas, I received the Gordon Ramsay Masterclass as a gift. My family knew this was the perfect gift for me, and I highly recommend the $90 investment. And low and behold, what did I find? The missing steps to the recipe!
It's all about the crepe. That layer will absorb the moisture and protect your puff pastry from becoming mush. The mushrooms are also prepared differently, which I definitely prefer. Now, I feel like a pro. But don't get me wrong... It is a lot of work.
Now This is Beef Wellington!