The Most Amazing
Pressure Cooker Beef Stew
I have this theory. Just because you can do something doesn't mean you should do it. I get it. We all LOVE our Instant Pots, but some recipes really should be left to other cooking methods. Well, that's definitely not the case here! This pressure cooker beef stew recipe is one of the most delicious foods I've eaten in a while. And I eat a lot!
What Makes This Recipe So Special?
There are several things I did to ensure this meal tasted as great as it did in my head. The first step (that is a must!) is to sear the meat well. There's nothing worse than sad, gray meat. The sear is the only chance you get to add color. Plus, all the bits left in the bottom of the pot will help develop the flavor.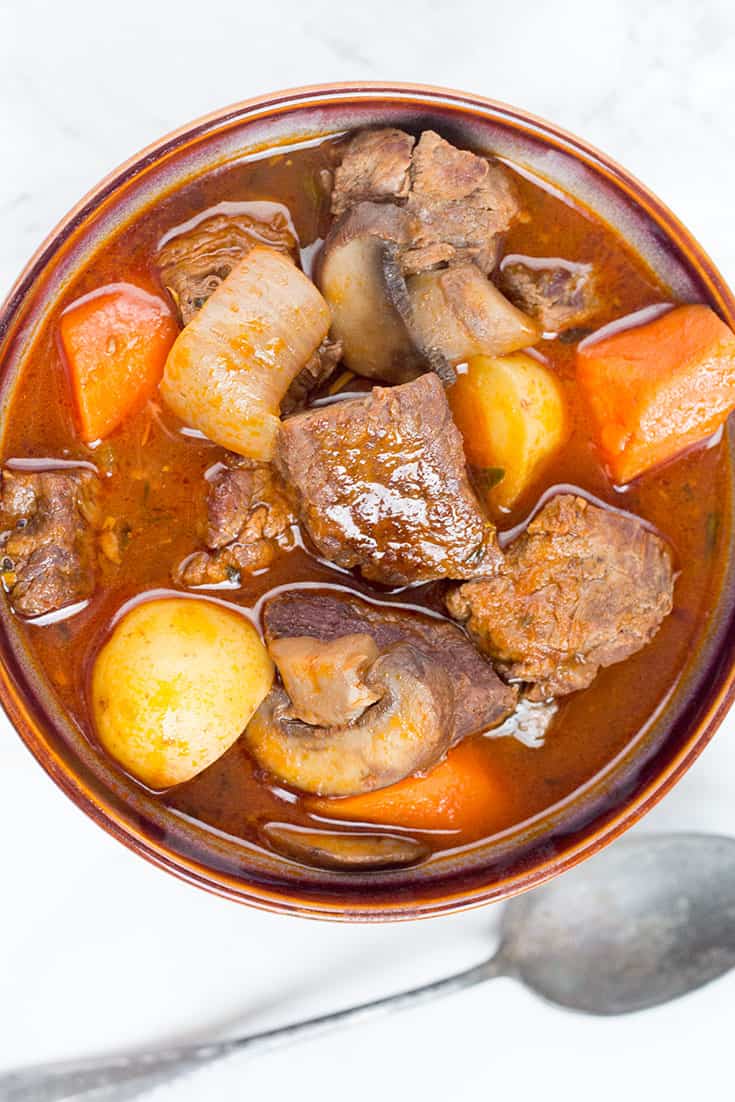 But more than anything else for this pressure cooker beef stew – I used high quality ingredients. Believe it or not, (in my opinion) an ingredient as small as tomato paste actually makes a difference in the overall finished product. And the potatoes matter! They are not all created equally. Here's a look at some of the choices I made…

And of Course, Our Good Friend…
The Ugly Truth About This Recipe
Even though this is an Instant Pot recipe, it still took a little while to make. It's definitely not a set it and forget it method. But here's the good part… The meat is incredibly tender and the broth is seriously something special. So, it's worth it.
There are also a lot of ingredients – more than I usually use. But I just couldn't decide what to cut out. So I just put it all in there. And I'm totally okay with that decision because the result was some of the best stew I've ever made in my life. And I get to eat leftovers for lunch today!

The Method
Pressure Cooker Beef Stew
Prep time:
Cook time:
Total time:
Ingredients
2 lbs. stew beef
2 Tbsp. sea salt - separated
3 tsp. black pepper - separated
4 Tbsp. olive oil - separated
1 medium yellow onion - roughly chopped
1 Tbsp. garlic - minced
2 stalks celery - diced
8 oz. baby bella mushrooms - sliced
1 bay leaf
¼ cup Worcestershire sauce
1 cup red wine
6 oz. tomato paste
1 Tbsp. fresh thyme leaves
1 Tbsp. fresh rosemary - finely chopped
4 cups (high quality) beef stock - no salt added
1.5 lbs. baby yellow potatoes - larger ones cut in half or quarters
5 medium carrots - cut into 2-inch chucks
Instructions
Season beef with 1 Tbsp. salt and 2 tsp. pepper. Using sauté setting on Instant Pot - once hot add 2 Tbsp. oil and thoroughly brown beef. Do this in two batches and do not stir too frequently. After the first batch, add 1 Tbsp. of oil. You want a good sear on each side of each piece. Set beef aside.
Continuing on sauté setting - add 1 Tbsp. oil, onion, garlic, celery, mushrooms, and bay leaf. Cook for about 5 minutes, stirring frequently, making sure to scrap up any bits on bottom.
Then add Worcestershire sauce, wine, tomato paste, thyme, and rosemary to pot, bring up to boil, and cook for at least 5 minutes - more time is okay. Stirring occasionally.
Lastly, add beef, stock, potatoes, and carrots, 1 Tbsp. salt, and 1 tsp. black pepper, then mix well. Close lid and set manual time for 10 minutes at high pressure.
Once cook time is complete - allow pressure to release naturally for at least 20 minutes. Quick release remaining pressure then remove lid.
Serve and enjoy!
Notes
If you use a beef stock that has salt already, there is no need to add the second Tbsp. of salt in step 4. Only season the beef before sautéing.
And as Always… Please Pin & Share the Love!
THIS POST MAY CONTAIN AFFILIATE LINKS. TO FIND OUT MORE VISIT MY DISCLOSURE PAGE.