Pressure Cooker Southern Baked Beans
This pressure cooker southern baked beans recipe is incredibly simple to make and full of rich, sweet, and savory flavors. And it's perfect for all your summer BBQ's and picnics.

Cooked from Scratch
My wife is a huge proponent of cooking from scratch for two reasons: 1. It's typically cheaper than purchasing pre-made food. 2. You have total control of the ingredient list and can minimize artificial additives.
However, there's one draw back to cooking from scratch: It's time consuming. Unless, of course, you own one of these:

Because this recipe is made in a pressure cooker, the hands-on time is relatively low. After quickly sautéing the bacon, onions and green pepper, add the rest of the ingredients, lock the lid, close the pressure valve, set the manual time for 60 minutes and walk away! No waiting hours for the beans to simmer on the stove top. And the result is a pot of delicious southern baked beans from scratch with minimal hands-on time!
The Truth About Salt & Beans
Do you know why you wait to add salt until your beans are fully cooked? Most people, like myself for a long time, think it's because it helps the beans cook more quickly. This seems true, but is actually an illusion. The real reason to wait is this… Salt makes the skin of the beans tough, which is why they then take longer to cook. So this is probably the only time I will ever recommend you wait until the end to season your food. Only with beans!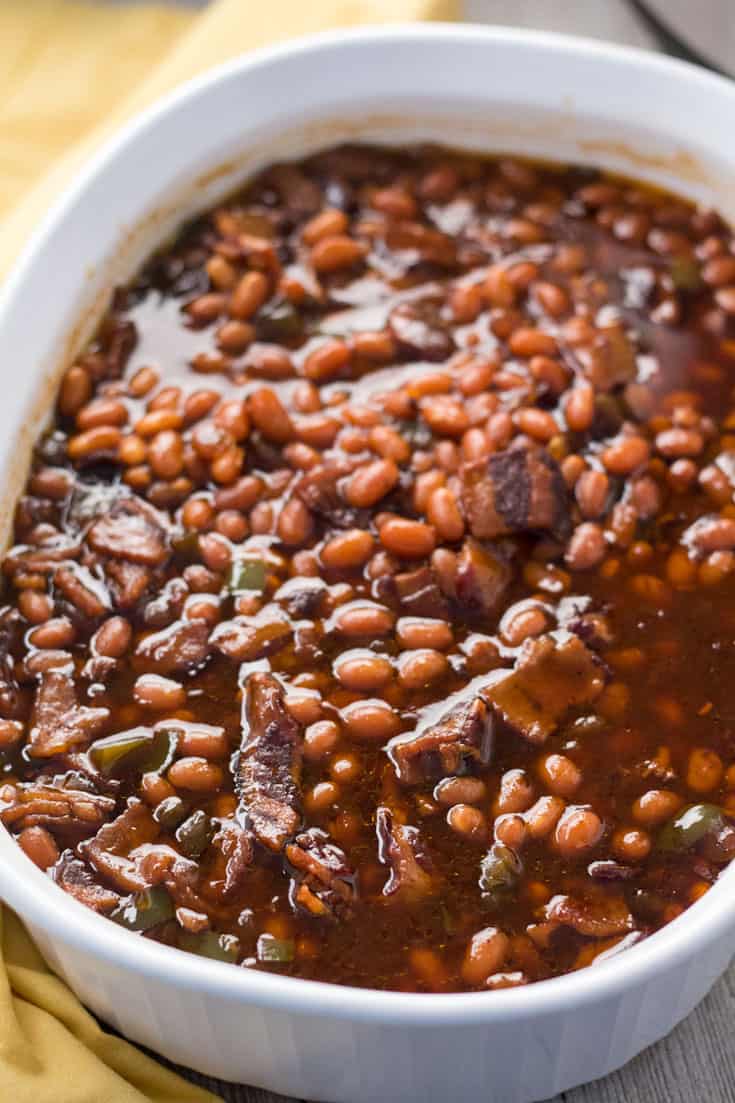 The Method
Pressure Cooker Southern Baked Beans
Ingredients
1 pound dried navy beans – soaked at least 8 hours
8 slices thick cut bacon - roughly chopped
¼ cup apple cider vinegar
1 medium onion - finely chopped
1 small green bell pepper - diced
3 cups unsalted chicken stock
¼ cup 100% maple syrup
⅓ cup molasses
¼ cup dark brown sugar - packed
⅓ cup ketchup
1 Tbsp. Worcestershire sauce
2 tsp. dry mustard
1 Tbsp. sea salt
¼ tsp. black pepper
2 Tbsp. cornstarch
2 Tbsp. water
Instructions
Soak beans for at least 8 hours, preferably 24. Drain beans and rinse.
Using sauté setting – cook bacon until almost crispy, then add onions, green peppers, and vinegar. Cook until onions and peppers are semi-soft and vinegar is evaporated, making sure to scrape up brown bits from bottom.
Add beans, stock, maple syrup, molasses, ketchup, brown sugar, Worcestershire sauce, mustard, and pepper. Mix well to combine.
Lock lid, close pressure valve, and set manual time for 60 minutes.
Once cook time is complete, allow pressure to naturally release for 15 minutes. Then release remaining pressure and remove lid.
In a small dish, combine cornstarch and 2 Tbsp. of water. Add salt and cornstarch mixture to pot. Switch to sauté setting and cook until desired consistency.
Serve and enjoy!
And as Always… Please Pin & Share the Love!
THIS POST MAY CONTAIN AFFILIATE LINKS. TO FIND OUT MORE VISIT MY DISCLOSURE PAGE.