Kahlua Red Velvet Cake
with Baileys Cream Cheese Icing
As a kid growing up, my Aunt Ula Mae's red velvet cake was hands down my favorite dessert. And I'm pretty sure that her recipe is legendary in my home town. She would cook one for our family every year when I was a kid. But as I grew up, moved away, and spent less and less time in Apopka, I had fewer tastes of that magical cake. So it has become one of my missions in life to create another red velvet cake that has  that same richness and depth of flavor. And I actually believe this Kahlua red velvet cake with Baileys cream cheese icing comes close! And with a boozy kick!
I Love These Cake Pans!
And as Always… Please Pin & Share the Love!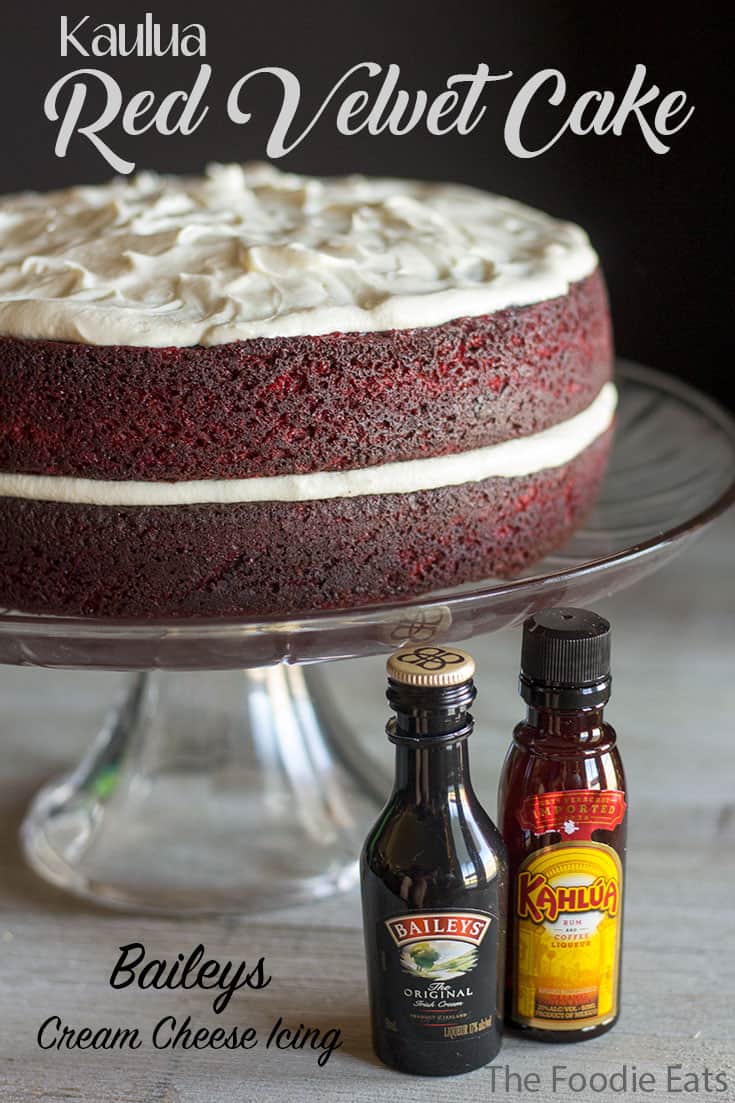 The Method
Kahlua Red Velvet Cake with Baileys Cream Cheese Icing
Ingredients
2 cups all-purpose flour
1 tsp. baking soda
1 tsp. baking powder
¼ cup unsweetened cocoa powder
1 tsp. salt
2 cups sugar
1 cup vegetable oil
2 eggs
1 cup buttermilk
1 tsp. vanilla extract
2 oz. red food colloring
3 mini bottles Kahlua (about ⅔ cup)
1 tsp. white vinegar
8 oz. cream cheese - softened
2 sticks butter - softened
1½ cups powdered sugar
2 mini bottles Baileys Irish Cream (about ½ cup)
Instructions
Preheat oven to 325 degrees. Then prepare two 9-inch cake pans by greasing with vegetable shortening and sprinkling with 1 tablespoon sifted cocoa powder, tapping pans to coat and discarding extra.
First, in a large mixing bowl - whisk together flour, baking soda, baking powder, cocoa powder, and salt.
Next, in a separate large bowl - using a hand mixer, combine the sugar and vegetable oil. Then, one at a time, add remaining wet ingredients - eggs, buttermilk, vanilla and red food coloring, vinegar, and Kahlua.
Slowly add the wet ingredients to the dry ingredients, a little at a time. Mix just until fully combined, do not over-mix.
Then pour batter into pans. Should be about 3 cups per pan.
Now bake for about 35-40 minutes. Or until a test toothpick comes out clean.
Remove pans and let cool for at least 10 minutes before removing cakes. Then, once pans are warm to touch, transfer cakes to a cooling rack and let cool completely before icing.
Meanwhile - Place the butter, cream cheese, and 1 mini bottle of Baileys in a mixing bowl an mix together for a few minutes, until creamy. Slowly add the powdered sugar a little bit at a time. Then add the second bottle of Baileys and mix until fully incorporated. Lastly, increase to the highest speed until whipped texture is achieved.
Frost the cakes in the style of your choice. And enjoy!
THIS POST MAY CONTAIN AFFILIATE LINKS. TO FIND OUT MORE VISIT OUR DISCLOSURE PAGE.